I just knew Frankie was going to post his "Kukuku" crap here. I KNEW IT!
I really think he thinks he is genuinely funny, and expects us to find him funny and his posts funny. I don't, and nobody else does either, except for him. He probably also thinks that if he keeps posting "Kukukukuuuuuuu!" over and over again (because he thinks it's funny and/or awesome) that we will eventually find it funny and/or awesome as well. It's not gonna work.
Anyways, this picture of a sign here may be the biggest oxymoron I've ever seen.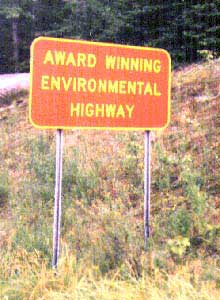 ...Is it even possible for an "environmental highway" to exist?