"I'll carve this moment into my heart, and everything about us"
---
So I had two episodes of Love Live! Sunshine!! left, and decided I'd watch them before work on Friday. Last time I watched, I stopped at episode 11, figuring the last two would be better watched together as a finale, and that I'd likely cry during the whole thing. I
sobbed
because i have no control of my emotions anymore
. It was a really good ending...
Putting the rest in spoilers- stops the post from being a giant wall of text..
Spoiler:


I really liked the direction this show took in comparison to the original Love Live series. As I said in my last post, it was more about trying and failing and still trying, rather than more of a slice of life comedy. There were certainly comedic elements, but a lot of the bigger stories weren't successes. They didn't win the preliminaries for Love Live in the first season, and they didn't manage to save their school regardless of how well they did in the second season. So the last couple episodes deal with that- they didn't save their school, so they're going to put on the best school festival they can before it closes and make memories that way. And they're going to try again to win Love Live, not to save their school, but to etch the name of it into Love Live history, so that in some ways, the school will be remembered forever more as the school Aqours came from. So the second to last episode deals with getting ready for the finals in the Love Live idol competition, but rather than focusing on that, it spends much of the episode with character introspection- as they go to Tokyo, they all split up to think about their growth and who they are and, as Chika asks each of them before hand, "Do you want to win Love Live?" So each girl goes through a heartfelt explanation as to why- Riko wants to win because joining up with Chika and the others helped her out of depression and wants to win to prove she made the right choice, that despite her refusal at the beginning, she does want to be a school idol. All of these moments with the characters were pretty emotional for me!! The episode was all about character, and the actual Love Live competition happens only in the last few minutes of the show where we see their performance, but left on a cliffhanger as to how well they did.

I was actually a little surprised to find they win! I sort of wondered if maybe they'd get close- second place or something- but not all the way, considering the recurring theme of falling short.. however, I was certainly fine with them winning. Echoing the first show, they perform an encore which ends up being the opening theme from the first season, "Aozora Jumping Heart," with some new animation. They close the school together after the third years have their graduation, and it's of course emotional and heartbreaking... and then the third years go their separate ways- Dia leaves for college, Kanan goes overseas to pursue being a diving instructor, and Mari goes to Italy for a school her father recommended... until Chika goes to explore the school after trying to find what made her and the Aqours shine, and finds all her classmates in the auditorium, with the rest of Aqours on stage, third years included, expecting her arrival and wanting to sing together one last time. They do one last song, and then the curtain falls.

Both of these episodes were full of moments were I was either crying, or... o-outright sobbing... much like the last show, I grew really attached to the characters and their struggles and triumphs, so to see it all come to an end... I have to admit it's sad! The full series had so many wonderful moments- Ruby befriending the younger sister of rival group Saint Snow to prove to their older sisters that they're strong enough to continue on their own when their sisters graduate, Yoshiko trying to put away her fallen angel persona out of embarrassment only for the rest of the group to convince her to be herself, Chika's dog Shiitake attending the performances in the audience with glowsticks attached to hears and tail, Dia hosting a Love Live trivia game during the closing festival and letting her closeted

love

obsession with idols shine through..

The last two songs were wonderful, "WATER BLUE NEW WORLD" and "WONDERFUL STORIES." I had to re-watch them before posting them here because when I was watching the episodes, I couldn't really focus on the animation because I was reading the subtitles (and crying..), so it's nice to see. The latter song is all callbacks to past songs in both seasons- same backdrops and costumes but different choreography and, in the case of earlier songs like "Kimeta yo Hand in Hand," the entire cast instead of only the three during the actual song.





more thoughts behind spoilers..



Spoiler:



Much like the first show, which had maybe ridiculous stories but wonderful characters, the members of Aqours were all wonderful, though admitted some resonated less than others for me (but µ's was the same way- I liked Honoka, but I wouldn't put her at the top for me).

Chika starts out trying to mimic Honoka from µ's- this show takes five-ish years after the original, so in the time between, school idols went from a somewhat niche (though still very popular in their communities) concept to a very widespread thing where µ's saving their school and beating out fan-favorites A-RISE and eventually going to America for a concert brought so much attention to the slowly fading Love Live communities. So of course Chika, seeing herself the leader of her group, wants to be just like Honoka in order to save her school. However throughout the series she learns that she just can't- µ's made it because they were themselves and did their best without trying to be someone their not, and so I really liked having Chika come around to that through her failures- she tries to be the optimistic and positive role model for the rest of the group, but eventually even she breaks down and admits they failed. Her own story arc becomes trying to find her own "shine," not realizing until the very end that she, and Aqours as a whole, being themselves is what makes them shine. She wasn't my favorite, but I think I liked her more than I liked Honoka.

Riko was my favorite from day one. Kind of like how I saw elements of my personality in Umi, I could relate to Riko a lot- stressed by a lot of things, doesn't see herself as anything special and while maybe she'd like to be a school idol there are plenty of people better suited for that kind of thing, has something she's passionate about, her piano, but is going through depression and has no motivation for it. Her growth was really neat because she insists several times until finally caving in that she doesn't want to be a school idol, only for her to finally say it at the very end. Making friends and becoming school idols brings her out of her shell, and she ends up falling in love with playing piano again, even performing at a piano recital instead of an idol concert (after her friends' insistence). She's terrified of dogs, but after taking care of a lost puppy with Yoshiko, she ends up slowly getting over it, actually getting a puppy with her family at the very end.
She also had really fun reactions




I like You a lot- part of her story was that she and Chika knew each other from when they were younger but they never really got to do anything together because their interests were so different, so when she sees that maybe she can help Chika and become an idol with her, she joins up to make costumes. In the last episode, she embraces Chika, telling her that she finally got to do something with her and how grateful she is. I liked that when Chika gets Riko to join, You isn't the most thrilled, seeing Chika and Riko growing closer and feeling left out when this was supposed to be something the two of them were going to do together. Eventually they become best friends, but I liked that it wasn't perfect at first- the cast of the first show all came together with little incident once each of them was on board, so having some jealousy over someone was a nice change.

I wasn't a huge fan of Ruby at first- she was overly shy to a very large degree and that was her entire thing. But then you start seeing how she starts to become more outgoing and open, actually being able to sing and perform on stage and slowly distance herself from being dependent on her sister, Dia. I liked their dynamic- Dia can be incredibly strict and ruthless, but when it comes to her younger sister she's immediately the caring and loving type, so of course I can see how Ruby would worry about her sister's concern over whether she'll be alright when Dia graduates.. so for her to then turn that and set up a performance with Leah of Saint Snow, who's going through similar with her older sister Sarah, was really nice.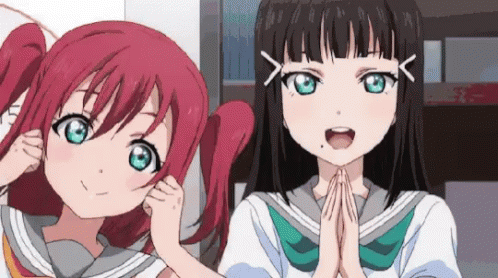 Ganbaruby!

I don't have a lot to say about Hanamaru, honestly- I liked her a lot, but she mainly played foil to Yoshiko's fallen angel persona, Yohane, acting as the straightman to her antics, as well as being Ruby's best friend. Because she was brought up by her grandparents in a temple, she doesn't have much in the way of experience with modern technology, such as laptops or.. automatic sensor lights? A little odd, but I'll never tire of it being a running joke, finding something like automatic hand dryer or a smartphone, and declaring it the future. Or rather, "Mirai, zura!" as her regional vocal tic has her ending some sentences with "zura." I actually got a smartphone for the first time today (previously using my old flip phone and a tablet in wifi-enabled areas), and instantly thought, "mirai, zura!"



Yoshiko

"It's Yohane!" Yoshiko was a fun character- she was sort of like Nico from the first show- one recurring personality act, in this case acting as a fallen angel disgraced by God, but much like learning about Nico and acting like the number one school idol in the universe so her younger siblings have someone to look up to, Yoshiko has her own personal reasons for it. She's found she's terribly unlucky- tripping on nothing, raining wherever she goes, getting sick before major exams.. and when she was a child she saw herself as an angel who'll get back to heaven one day.. before finally settling on her fallen angel.. until she feels embarrassed to still be acting like that in high school and afraid everyone's talking about her behind her back. She goes on little tirades in character an awful lot, about demon spawn and hellfire and turning everyone into her little demons, while putting on fortune telling presentations and filming for an online website, and it's just really fun to watch, especially when someone like Hanamaru dismisses it and goes back to the main topic. Later in season 2, Riko joins in, but then has to insist she hasn't become one of Yohane's demons.



"Hmm... Perhaps you'd like to accompany me on my fall from grace? You have a look on your face that's just beginning to fall from the heavens."

Dia was a fun character- she's very... not fun. Very strict, very commanding, very... yelling. She's head of student council, and gets quite upset when Chika, You, and Riko arrive to her office wanting to become official school idols. As it turns out, she's secretly very very much into school idols, to the point where she starts quizzing Chika on µ's and getting quite upset over wrong answer over wrong answer. "Buu buu desu wa!" Of course, we learn later that she and the third years tried to form an idol group a few years prior, the original Aqours, and while it didn't succeed, she secretly tries to support the new group too, writing the name "Aqours" in the sand where Chika and the others are trying to come up with a name for their group. According to the School Idol Diary story for her, she comes from a very traditional Japanese family, and her parents want her to get married through arranged marriage. I don't know whether that's canon to the show or not, but her desire to go to college instead of getting married comes true by the end of the show. I liked her episode about being seen as someone to be respected as an older student rather than a close friend- turns out her strict nature keeps them all in line which they're grateful for, but of course acknowledge that she's one of their friends too. She wasn't my favorite at the beginning, but I ended up really liking her by the end.

Kanan was.. fine. She wasn't one of my favorites, but I did like her- she was the most athletic and lead the practices each session. With Dia and Mari, she was part of the original Aqours group, but after a flip Mari was supposed to perform failed and Mari got hurt, she turned her back on being an idol. In order to win the preliminaries, Dia and Mari felt Chika has to perform the trick, to which Kanan very strongly opposes, insisting finally that if Chika practices and it seems too dangerous, Kanan can veto the whole thing. While Dia plays the mature and commanding role, Kanan is mature in the older, wiser, supportive type role instead, caring a lot about her friends and wanting to help and protect them. She could tell when Mari was trying to dismiss her depression over potential bad news about the school, and could tell when Dia was feeling insecure about her place in the group, playing supporting role for both.

Mari comes from a rich family, so her dad owns the school she's in.. and she acts as director?! I don't really know how that works with taking classes, too, but as director, she does her best to fight her dad's (and schoolboard's) decision to close the school due to decrease of entrants. Because of her part Italian and part American background, she speaks in those languages occasionally, mainly English, which becomes something of a running joke.. even if it's sometimes broken... She plays opposite to Dia's seriousness and Kanan's maturity, so there's a lot of fun moments between the three of them, but despite her silliness, she cares a lot about her friends.
She also refers to Ruby in gothic attire as "Pretty bomber head," and I'm not really sure what that means, but okay!



I really liked Saint Snow as the rival group for Aqours because they're just like Aqours, and honestly every other idol group at this point, all following the same example µ's set, even going to the same shrine Nozomi works at and µ's would reach after running up all the flights of stairs for practice. Only unlike Aqours, they're very determined, very serious. In the first season, they're actual antagonists, with darker music and an arrogant and angry insistence that they're better than every other group, telling Aqours they're nowhere near professional or good enough to be there. It's interesting then, when they appear in season 2 and we learn Chika's occasionally talking to Sarah over the phone and is actually pretty nice, and Ruby ends up befriending Leah, who's... still sort of a dismissive character, but relents when Ruby proposes they work together. I liked them a lot more than A-RISE, I think- A-RISE was a rich group from a rich school and could afford to be on top of the school idol world, shrinking as it may be. Everyone wanted to be them, and even after µ's dethroned them, they were still popular, riding around in limos, and seemed like unattainable goal. They were certainly supportive and helpful for Honoka and friends, acting less an antagonists, and more respectful (though also confident they'd succeed), but Saint Snow is just a group of two girls who weren't on this high pedestal- they didn't even make it far in the preliminaries either in the first season either, so they were more relatable than A-RISE was.



I really want to link their songs, so they'll be in a superspoiler tag, too..



Spoiler:





Are you really sure? Yes, I'm sure Clicking this link will show a major spoiler. Don't do it if you don't want to know! Show Me!



Ah... a few further thoughts...



Spoiler:


I don't know if I like this show or I liked the original show more. I think I liked the characters in the first show more? Umi and Kotori and Eli and Nozomi and the rest... but I think I liked the stories more in Sunshine. I said this in the last post but I really appreciated how the show starts out trying to mimic the first show- they even do a similar approach where the third episode has the second years putting on their first performance, but it doesn't go too well, and they only start growing from there. But then it gets its own identity and it goes from me worrying the writers are just trying to copy the success of the first show, to really enjoying what they're coming up with. It's just similar enough that it feels like it's part of the same universe, but it has its own legs to stand on, too. I wouldn't recommend watching it without at least some knowledge of the first show, if not outright watching it entirely first, but..

The mobile game, School Idol Festival, is really good! It's one of those gacha type games so you're constantly rolling for good cards and just getting crap instead and you can spend real money on gems to buy more cards but that's not.. really worth it, ha... Still, they have stories for both µ's and Aqours, fully voiced by the actresses of the shows, and when I finished the original show and the movie finale and I was in a similar emotional state, getting mini "episodes" from the game was a nice thing- more adventures of Honoka and friends. Aqours is the same, and because I've only played on and off for awhile lately, there's a whole bunch of new Aqours stories for me to unlock. (A lot of µ's too, but they're at really really high levels and I'm not.. quite there yet). If you level up a powered up "Idolized" card, you unlock a mini solo story of said character, also fully voiced, and that's neat- learn more about the characters that way. Like with the School Idol Diary books, I don't know how canon the game is, but I like to think everything is canon, written books, the manga, the game, the anime, unless something conflicts with something else, and at that point I just default to what the anime says..

I haven't looked too much into the live concerts they've done in Japan? There were five major concerts for µ's, and Aqours just had their third one a few days ago, all done by the actual actresses who've learned to sing and dance and perform for real. I've seen pictures, and sometimes Lantis puts up preview footage, and it's neat to see costumes realized in real life. I'd like to go to one of them, but a) they're in Japan only and while I'd like to go to Japan at some point, it's... not going to be for awhile, anyway, and b) tickets are really hard to get- it's by raffle? So for µ's Final Live µ'sic Forever, scalpers had tickets on ebay for like $4,000. Christ. I saw Aqours did a mini concert in California for some anime convention thing with other groups, and that seems a little more doable for me if they do it again, but I haven't seen anything about it.

Are you really sure? Yes, I'm sure Clicking this link will show a major spoiler. Don't do it if you don't want to know! Show Me!



Are you really sure? Yes, I'm sure Clicking this link will show a major spoiler. Don't do it if you don't want to know! Show Me!



There's a lot more I could say!! But character limit..

Are you really sure? Yes, I'm sure
Clicking this link will show a major spoiler. Don't do it if you don't want to know! Show Me!
I hope the movie in January is good!!
---
Last edited by Zondekel; 18th June 2018 at

06:18 AM

. Reason: eesh, that sure is a lot of words just to talk about idol trash..