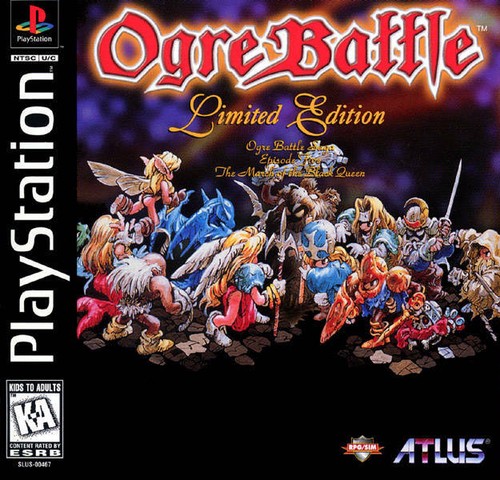 I've been meaning to play the works of Yasumi Matsuno, who you might know as the creative lead on the Final Fantasy Tactics series, Vagrant Story and Final Fantasy XII.
Ogre Battle isn't the first game he worked on, but it is the first title he directed. Its spinoff/follow-up, Tactics Ogre, would serve as the base Final Fantasy Tactics was built on.
Ogre Battle is a very intimidating game when you first hop in, but it's pretty easy to pick up once you see how everything works. It's a real-time strategy with automated turn-based battles.
You make a unit with up to five characters. Each character has a class, like fighter, knight, mage, valkyrie, cleric, etc. It's pretty satisfying building a well-balanced unit and watching it destroy.
On the map, you're directing your units to liberate and occupy cities, as well as search for treasure and capture the enemy base. When your unit runs into an enemy on the field, you get pulled into a battle.
In battle, you can direct your unit to attack the enemy leader, the weakest enemy or the strongest enemy. Of course, some classes are ranged and some aren't, so who they attack depends on their placement in your unit and the placement of their target.
You can also play tarot cards, which might do damage to every enemy, cause non-boss foes to flee, grant your unit an additional turn, or many other effects. The battle ends either when one side is defeated, or after two rounds. Whoever dealt more damage is considered the winner, with the losing unit being pushed back on the map.
Where Ogre Battle gets kind of archaic is the numerous endings the game has. To get the true ending, you need to have a high alignment (think morality meter,) have recruited the right set of characters, and collect a set of particular items from the field.
Collecting the items is difficult if you don't already know where they are, since treasures are invisible until one of your units walks over them. The morality is also a pain, because it's determined by a lot of little weird things.
Beating higher-leveled foes adds alignment points, beating lower-level foes deducts points. Beating an enemy unit after their leader has been killed deducts points. Taking control of cities with matching alignment raisies your alignment, otherwise it's deducted. Sparing/executing bosses can raise or lower your alignment depending on the boss.
It sounds really complicated, but it hasn't been too bad thus far. I've been writing objectives down in a notebook to make sure I don't miss anything vital. As far as gameplay goes, it's aged suprisingly well. The interface is pretty user-friendly once you figure out what it all is, and a lot of satisfaction comes from just building solid units and watching them go.
Another interesting tidbit, Ogre Battle and March of the Black Queen are both the names of Queen songs. Let Us Cling Together, the subtitle of Tactics Ogre, also shares its name with a work from Queen.